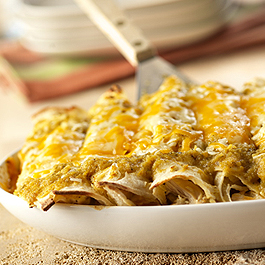 Courtesy of Campbell's® Kitchen
Servings: 4
Prep Time: 15 Min.
Cook Time: 20 Min.
* 1 jar (16 oz.) Pace® Salsa Verde
* 1-1/2 c. shredded cooked chicken
* 1-1/2 c. shredded cheddar-jack cheese (about 6-oz.)
* 1/2 c. sour cream
* 8 corn tortillas or flour tortillas (6-in.), warmed
1. Heat the oven to 375°F. Spread 1/2 c. salsa verde in a 2-qt. shallow baking dish.
2. Stir 1/4 c. salsa verde, chicken, sour cream and 1/2 c. cheese in a medium bowl. Spoon about 3 Tbsp. of the chicken mixture down the center of each tortilla. Roll up and place seam-side down in the baking dish. Top with the remaining salsa verde.
3. Bake for 15 min. Top with the remaining cheese and bake for 5 min. or until the cheese is melted.
Calories: 509;
Total Fat: 26g;
Saturated Fat: 13g;
Cholesterol: 102mg;
Total Carbs: 38g;
Fiber: 4g;
Protein: 28g;
Sodium: 1199mg;