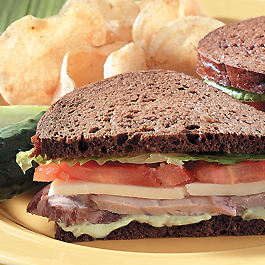 Courtesy of National Turkey Federation
Serve With:
Baked potato chips and dill pickles.
Servings:
4
Prep Time:
20 Min.
Cook Time:
20 Min.
Chill Time:
20 Min.
Mayonnaise:
* 1 large avocado, peeled and pitted
* 1 clove garlic, peeled
* 4 oz. mayonnaise
Grill Procedure:
* 2 (8 -10 oz.) turkey thighs, skinless and boneless
* kosher salt and ground black pepper, to taste
* 8 slices pumpernickel bread
* 1/2 lb. smoked Gouda cheese, sliced into 1 oz. slices
* 1 large tomato, sliced thin
* 1/2 head baby romaine lettuce, washed, drained and chilled
1. In a food processor, blend avocados and garlic. Add mayonnaise and blend until smooth. Cover and refrigerate.
2. Sprinkle thighs with kosher salt and pepper.
3. Spray grill rack with nonstick vegetable spray. Prepare grill for direct cooking method, using medium heat. Place thighs on grill rack, 4 inches from heat.
4. Grill about 14-18 min. turning frequently. Continue to grill until the internal temperature reaches 180°F. Let turkey thighs rest for 5 to 8 min.
Assembly:
5. Slice grilled turkey into 1/4-inch slices.
6. Spread mayonnaise on one side of each bread slice.
7. For each sandwich, top one bread slice with 4-oz. grilled turkey slices.
8. Layer 2 slices of Gouda atop turkey. Continue to layer with 2 slices tomatoes and a few romaine leaves.
9. Cover with a top for the sandwich and slice on the diagonal. Repeat for remaining sandwiches. Serve immediately.

Recipe developed by Sous Chef Kirk Brooks of the Doubletree Hotel in Tucson, AZ.