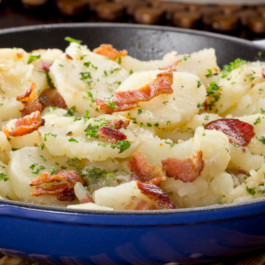 Courtesy of Mr. Food Test Kitchen
Servings: 8
Prep Time: n/a
Cook Time: 30 Min.
* 4 lb. potatoes, peeled and sliced thin
* 8 slices bacon
* 1/4 c. vegetable oil
* 1/2 c. finely chopped onion
* 1/2 c. white vinegar
* 1/4 c. water
* 1/3 c. sugar
* 1 tsp. salt
* 3 Tbsp. finely chopped fresh parsley
1. In a large pot of boiling water, cook potatoes 10 to 15 minutes, or until fork-tender. Drain, place in a large bowl, and set aside.
2. In a large skillet over medium heat, cook bacon until browned and crisp, turning as needed. Remove from pan, crumble, and set aside.
3. Add oil and onion to bacon grease and cook 4 to 5 minutes, or until onion is soft. Stir in vinegar, water, sugar and salt; bring to a boil. Gently stir in potatoes and parsley.
4. Add half of bacon to potato mixture and heat until warmed through, stirring occasionally. Remove to a serving dish, sprinkle remaining bacon over top, and serve warm.

* Notes: The potatoes in German Potato Salad are usually sliced, rather than cubed, but you're the boss...make whatever shape your gang prefers.

Recipe and Image from the Mr. Food Test Kitchen
© 2018 Ginsburg Enterprises Incorporated. All rights reserved.