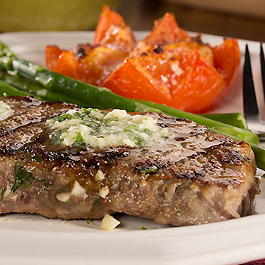 Courtesy of Mr. Food Test Kitchen
Servings: 2
Prep Time: n/a
Cook Time: 15 Min.
Chill Time: 60 Min.
* 1/2 c. (1 stick) butter, softened
* 1 Tbsp. minced garlic
* 1/2 tsp. onion powder
* 2 tsp. chopped fresh parsley
* 2 strip steaks
* 1/2 tsp. salt
* 1/4 tsp. black pepper
1. In a medium bowl, combine butter, garlic, onion powder, and parsley; mix well. Place down center of a 12-inch-square piece of wax paper and roll into a 1-inch-thick log. Wrap tightly and refrigerate about 1 hour, or until firm.
2. Sprinkle each side of steak evenly with salt and pepper. Coat a grill pan or large skillet with cooking spray and heat over medium-high heat.
3. Cook steaks 6 to 8 minutes per side for medium doneness, or to desired doneness. Melt a slice of herbed butter over each steak and serve immediately.

Recipe and Image from the Mr. Food Test Kitchen
© 2018 Ginsburg Enterprises Incorporated. All rights reserved.