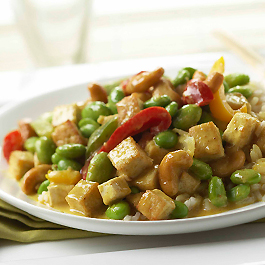 Courtesy of The Soyfoods Council
Servings: 4
Prep Time: 10 Min.
Cook Time: 30 Min.
* 1 (14 oz.) pkg. extra firm tofu, drained
* 2 c. quick cooking rice
* 2 Tbsp. vegetable oil
* 1 Tbsp. grated fresh ginger
* 2 cloves garlic, minced
* 1 (16 oz.) bag frozen edamame, shelled
* 1-1/2 tsp. curry powder
* 1/2 tsp. Thai red curry paste
* 1/3 c. cashews
* 1 c. canned coconut milk
* 4 tsp. fish sauce
* 2 tsp. sugar
* 1/4 tsp. salt
1. Set tofu on a plate and cover with a paper towel. Set another plate on top and let stand briefly to extract excess water. Transfer tofu to a cutting board and cut into 1/2-in. cubes.
2. Meanwhile, cook the rice according to pkg. directions.
3. Heat 1 Tbsp. of the oil in a large nonstick skillet or wok over high heat. Add the tofu and cook, stirring occasionally, until lightly golden, about 5-7 min. Transfer tofu to a plate and reserve. Return the skillet to the heat and add the remaining oil. Stir in the ginger and garlic; cook 30 sec. Add the edamame, stir fry and cook 5 min. Add the curry powder and curry paste; cook 1 min., stirring. Add the tofu and cashews and cook 1 min. until hot. Stir in the coconut milk, fish sauce, sugar, and salt. Bring the mixture to a boil and cook, stirring occasionally, until slightly thickened, 3-4 min. Serve over the rice.
Calories: 529;
Total Fat: 33g;
Saturated Fat: 14g;
Total Carbs: 59g;
Fiber: 5g;
Protein: 19g;